Most of John's paintings are landscapes and abstract expression (although people swear they see meaningful things in each painting),
but he is known to throw in a few patriotic, floral and religious-themed paintings into his body of work.
John is able to paint during "MOJO" session with his powerful left arm, a lot of determination and sweat. Considering John has a condition called Lesch-Nyhan Syndrome, which has similarities to cerebral palsy, this is a miracle in and of itself. But after the paint is done flying, the results are amazing.
Know what else is amazing? John gives the proceeds from his art to charity. Organizations like the Christopher & Dana Reeve Foundation and Relay for Life and other worthy causes have benefitted from his generosity. This, John says, is his PURPOSE.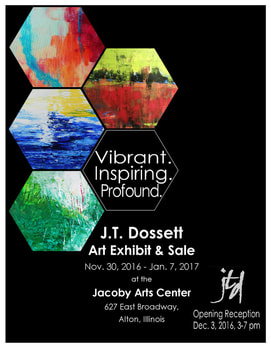 The J.T. Dossett Art Exhibit & Sale
November 30, 2016 thru January 7, 2017 at the Jacoby Arts Center, 627 East Broadway, Alton, Illinois, was a huge success! Thanks to all who came to see JT's inspiring art.
JT DOSSETT was the featured GUEST ARTIST,
at the 54th Annual Peoria Art Guild Fine Art Fair on the Peoria Riverfront on September 24-25, 2016. Many thanks and best wishes for continued success to our friends at the Peoria Art Guild. See
www.peoriaartguild.com/FineArtFair
for more info.
---