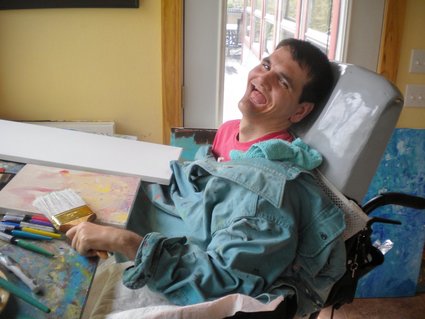 Vibrant. Inspiring. Profound.

The artist at work
John Tyler (JT) Dossett is a disabled artist who discovered he could paint when he took a community college art class in 2004. What started as a lark grew into huge demand for his paintings, which capture glimpses of John's fine mind in rich, saturated colors and textures.
Most of John's paintings are landscapes and abstract expression (although people swear they see meaningful things in each painting),
but he is known to throw in a few patriotic, floral and religious-themed paintings into his body of work.
John is able to paint during "MOJO" session with his powerful left arm, a lot of determination and sweat. Considering John has a condition called Lesch-Nyhan Syndrome, which has similarities to cerebral palsy, this is a miracle in and of itself. But after the paint is done flying, the results are amazing.
Know what else is amazing? John gives the proceeds from his art to charity. Organizations like the Christopher & Dana Reeve Foundation, Relay for Life, Juvenile Diabetes Research Foundation, and other worthy causes have benefitted from his generosity. This, John says, is his PURPOSE.
---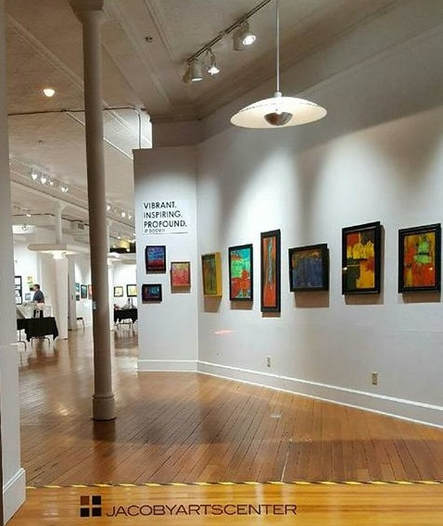 J.T. Dossett is partnering with We Are Lions
www.wearelions.org
to incorporate his art into textiles, including shirts, tote bags, pillows, shower curtains, and more! Check out the website and purchase your "soft" masterpiece today. We Are Lions is a "social enterprise dedicated to providing opportunities for individuals with disabilities through art and entrepreneurship. What a beautiful relationship!
If you have questions about John's art, contact us at info@jtdossettart.com.
​
J.T. Dossett Exhibits
An
exhibit of J.T.'s work
was held at the Jacoby Art Gallery in Alton, Illinois in 2017. Many thanks to all who made the exhibit and sale a huge success.
​
J.T. DOSSETT was the featured GUEST ARTIST,
at the 54th Annual Peoria Art Guild Fine Art Fair on the Peoria Riverfront on September 24-25, 2016. Many thanks and best wishes for continued success to our friends at the Peoria Art Guild. See
www.peoriaartguild.com/FineArtFair
for more info.
​
​
---